Social media has become essential to marketing campaigns over the last several years. As of January 2021, Australia had over 20 million social media users! This is more than 80% of the population.
Social media marketing has become an integral part of growth for businesses in nearly every industry. But it's important to get it right.
This is where social listening comes in.
What is Social Listening?
Social listening is the monitoring of a brand's social media channels for any and all mentions or conversations related to their brand, specific keywords or industry topics. This data is then analysed to provide insights and information.
Social listening allows you to create the content and campaigns that your audience is looking for. You can design the creative and write the copy to address the specific areas and issues that your customers are talking about. You can also update and optimise your campaign creatives based on what the data tells you about performance.
What's the Difference Between Social Listening and Social Monitoring?
Though similar, social listening and social monitoring mean different things.
Think of social listening as a broad search tool, one that listens for any brand mentions, industry trends, customer feedback, social conversations, and more.
Social monitoring, on the other hand, has a much narrower scope, focusing on specific campaigns or keywords with a focus on collecting data.
Social monitoring is part of social listening, in fact, it is the first step. The second step is analysing the information gained through social listening, and using that knowledge to create a marketing strategy.
Listening to the Data
It's important to remember that numbers alone don't paint the entire picture. While a lot of positive engagement is great, it's quite another story if a post garners a lot of negative sentiment.
Social listening understands this and digs deeper to consider the sentiment and mood behind the numbers. This is known as social media sentiment.
Social media sentiment analysis is an integral part of social media listening because it allows you to understand how people think of you and your competitors.
Not only can you keep track of when your brand is mentioned, you can look at what people are saying and use this to drive business strategy.
This also allows you to respond immediately to changes in sentiment and pivot your marketing campaigns to reflect the current mood.
Why Does Your Business Need a Social Listening Strategy?
Think of it this way, not using social media listening is like trying to find your way around in the dark.
People talk, and some of them are talking about your business online. It only makes sense to know what they're saying so you know how to respond.
In a nutshell, if you want to understand your customers and speak to them effectively, you need to develop a social listening strategy.
How Can Social Listening Benefit Your Business?
Here are some of the ways social listening can benefit your business:
Gather Brand, Industry and Competitor Intelligence
Knowing what people are saying about your brand, industry and competitors gives you important insight about your place in the market.
Social listening provides this information in real-time. For example, how are people reacting to your products or campaigns? Are your competitors launching new products or marketing campaigns? Have there been any recent advancements within the industry?
It has the additional benefit of providing opportunities to engage with your audience and customers.
For example, HubSpot saw this tweet and responded directly to it.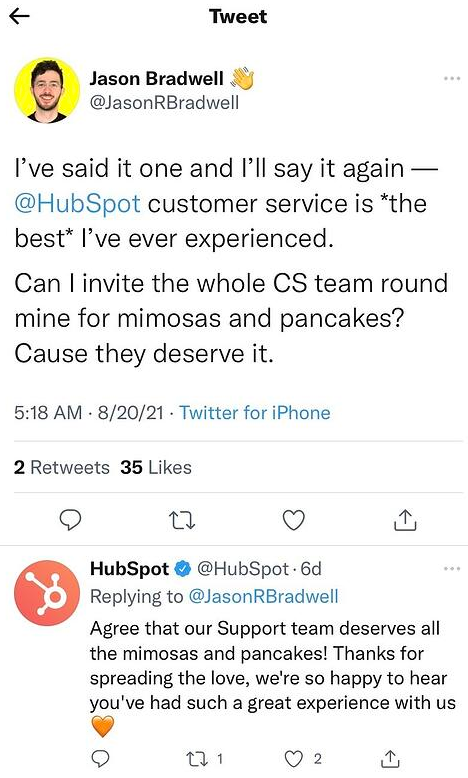 Here is another example of a company social listening for mentions of their brand and engaging directly with their customers.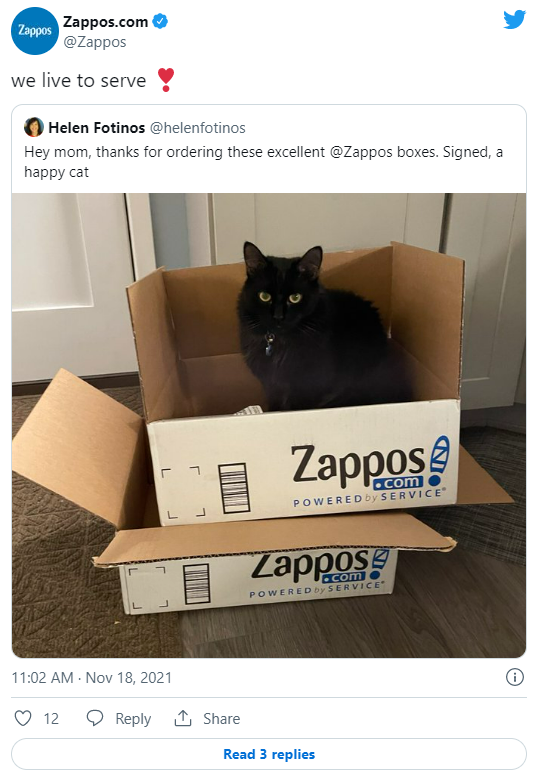 But it's not always sunshine and rainbows. Any company performing social listening will eventually hear some negative comments or feedback.
Here is an example of one such time, and how they took the opportunity to try and and make it right.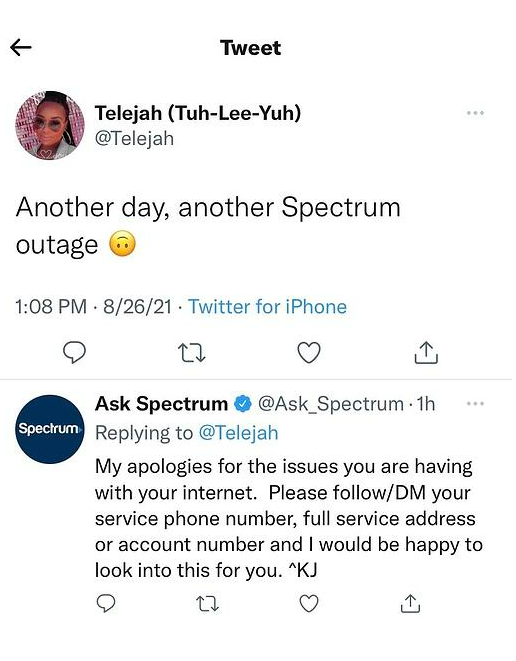 Identify pain points and avoid crises
Social listening can provide advanced warning about any major changes in the conversation around your brand.
If engagement spikes, look for reasons why. You can usually count on your audience to share their feedback about what they do and don't like and this can help direct your marketing strategy.
Social listening can also alert you to potential public relations issues before they become catastrophes. Is sentiment around your brand down? Take a look at the social feedback and try to pinpoint the reason behind the change.
If sentiment has plummeted, focus on determining why and making the necessary adjustments.
Was it an insensitive or tone deaf post? Is an immediate apology warranted? Take this as an opportunity to learn about what went wrong and focus on how to make it right in the short term, and improve and learn in the long term.
Discover emerging trends
There's no better way to stay on top of the trends than to listen directly to what's happening on social media. There are multiple ways to do this, including using social media listening tools, hashtags, 'for you' pages, etc.
Focusing on specific keywords will show you what people are discussing in relation to your brand or industry.
Twitter
Twitter is perhaps the best social media channel for finding out what's new on the web. Their "for you" tab uses native trend analysis to bring you content based on your current interests and what's happening in real time.
When you click "show more" you're brought to a list of specific trending conversations around that topic, along with relevant tweets and hashtags. Additionally, you can filter these trends by category, like tech, finance, entertainment, and more.
This will allow you to stay ahead of the curve when it comes to discovering new trends.
Instagram
Hashtags are an important part of identifying trends and making your content easily discoverable, especially on Instagram.
This isn't always an easy process, as most hashtag tools will only show you the very top trending hashtags without revealing the ones that may be relevant to your niche.
There are tools to assist with this, such as Inflact, that will filter the most popular hashtags on different topics and categories based on niche.
Dig deeper with Thinkify
At Thinkify, we use various social media listening tools to create a comprehensive plan based on social listening trends. We develop a deep understanding of your audience so that our marketing strategy speaks directly to your audience on the social media platforms they spend the most time on.
For more information, click here.
Build relationships
Social media is the perfect place to join the conversation. Do you have the answer to a question? Can you help solve a problem for someone?
Use these opportunities to reach out, share useful information and introduce your brand. Using your expertise you can then continue to develop relationships and nurture these potential customers through the buyer's journey.
Look for collaborative opportunities
Social media listening will help you discover the thought leaders and identify influencers in your industry. These are the people you should be looking to connect with.
These collaborations can have a huge effect on consumer behaviour and how your target audience views your brand online.
But it's give and take. Supporting those in your industry will make them more likely to support you in return. Look to make connections through collaborations with the individuals or groups who already have a seat at the table.
Social listening can help you discover different ways to join these communities organically, rather than jumping in with a sales pitch straight away.
When people in your industry see you actively participating in online conversations and supporting the social media influencers they follow, they will be more inclined to trust you.
What are social listening tools?
Although you can uncover trends and gain actionable insights through organic social listening, there is a number of social media monitoring software options available that will make this process work better for you.
These social listening tools allow you to monitor several social media channels and platforms in one place.
You can set up your tool to identify emerging trends by checking mentions of relevant keywords and hashtags. Dive deeper by performing a sentiment analysis to gain a better understanding of consumer behaviour.
The right social listening tool should also allow you to schedule posts on your social media accounts right from the dashboard. This social media management feature will come in handy if you can integrate all your social media accounts so your analytics appear in one area.
Make the most of your social listening
At Thinkify, our focus is on acquiring, analysing and using the audience data gained through social listening. We utilise the latest technology in artificial intelligence and social listening tools to access real time data about what conversations are happening about your industry, your market and your brand.
We know what your customers are thinking, saying and doing – right now.
Using this intelligence, we develop a comprehensive a brand strategy and achieve pin point accuracy with your creative messaging and targeting.
Connect with your customers and generate leads at every opportunity.